1. Home sweet home.
2. My favorite thing for dinner lately has been an avocado and cheddar omelet.
3. I do not hear bark! bark! bark! but I do hear meow! meow! meow!
4. A nice long walk would have been nice tonight, as it was a beautiful evening.
5. I refuse to hear anything but some good news.
6. When all is said and done, love is all that matters.
7. And as for the weekend, tonight I'm looking forward to going to the movies with the hubby, tomorrow my plans include doing some errands, getting things ready for my surgery next week and Sunday, I want to spend some time with my family!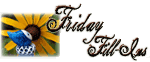 And because I'm addicted to these little poppets, here's a photo of my collection….so far…..