1. Angel or not, I will earn my wings one way or another.
2. Complete faith in my personal trainer lets me say, shape me  any way you want me.
3. As my mother used to say, you're full of baloney (my mother never swears so baloney is as bad as it gets).
4. I'm usually full of energy, "pumped up" as they say, after I'm done working out or doing something strenuous.
5. Even in the most crowded of rooms I will always be able to find my love, we have that kind of connection.
6. Any day I have a migraine is a day fraught with peril.
7. And as for the weekend, tonight I'm looking forward to seeing the family to celebrate my nephews birthday, tomorrow my plans include date night with the hubby and Sunday, I want to work in my yard, maybe plant some flowers!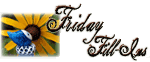 And just to make you smile…..