Hope you all had a wonderful weekend! We did! Miss Priss came home from camp, exhausted but happy to be home. Tons of pictures to show us and lots of stories to share. I remember those years of going to camp. Good times!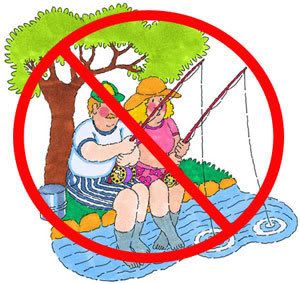 Father's day we cooked out, one of Big D's favorite things to do. Big steaks, veggies on the grill and a huge tossed salad….was wonderful! After dinner, Bubba decided that he wanted to take his dad fishing. Seeing that it was Father's Day and I promised I'd do whatever D wanted, I went along. Now, if you have been around me, you know I'm not the "sportswoman" type. At all. So after thirty minutes of trying to find a fishing spot that you didn't have to walk down through a jungle to get to the water (I had on flip-flops and put my foot down when it came to walking through high grass! I'm scared of snakes!!
). We finally found a place that we could park the jeep close and walk on gravel to the lake. I set my chair up and began swatting bugs immediately. UGH, where's that dang bug spray!!
Big D and Bubba got their poles ready and cast. I looked around and asked where's mine? Bubba handed me one but there was no little squiggly minnow on it, so giving my dear son that look mother's give their children I just stood there. My 6'1 son stood over my 5'4 self and informed me that if I was going to fish I had to bait my own hook. This is when "Momma" showed up! I informed my 22 year old son that over his dead body was I touching any slimy thing in those buckets, so bait my hook or face the wraith of mom! I never did have to bait my own hook by the way!
Now, after the first cast I was bored. The lake smelled, fishy. The bugs were biting. No fish action to be seen either. So I grabbed D's cell phone and made a call. Apparently this is not fishing etiquette because anyone who came down to fish in the general area we were in, left promptly. I don't know if it was my talking on a cell phone, or shrieking like a little girl when Bubba threw a minnow at me. But something I was doing was driving fellow fishermen away!
We hadn't caught a thing and it wasn't long that the boys gave it up, much to my pleasure and decided that we just go for a ride in the jeep! It was decided that I was not a fisherwoman! No joke!! My idea of entertainment is not getting sweaty, smelly, and touching slimy things. My dear loveable husband informed me that I was indeed a Diva. Gee, you think?
­
­
­
­